4-Bund m/pumpe:
INDEN motoren bliver isat, - kan det ikke anbefales stærkt nok at
udfylde kølsvinet op med flamengo-isolering. Ovenpå et lag tagpap
således at glasfiber ovenpå igen ikke ødelægger /omdanner isoleringen.
Hvorfor ?
1) Når du taber værktøj, møtrikker ect. ect ned i bunden, - så er det
&nbsp &nbsp &nbsp meget nemmere at få fat i det igen.
2) Vandet er nemmere at pumpe op når det ligger koncentreret ved punpen.
BEFORE the engine is mounted, it is hardly recommended to fill out the bottom
with some white isolationplates and glasfiber on the top. Between some roofing felt.
Why?
1) When tools, screws ect. ect. is dropped down, - it's much easier to fetch it again.
2) Much easier to keep the area clean, and empty for water with the pump.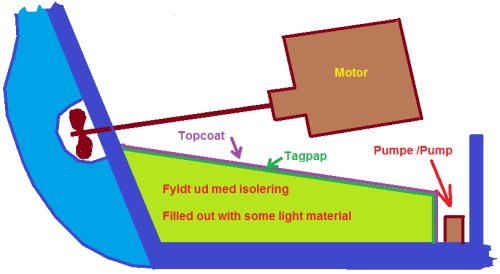 Næste ... /next ...